DEMONKIN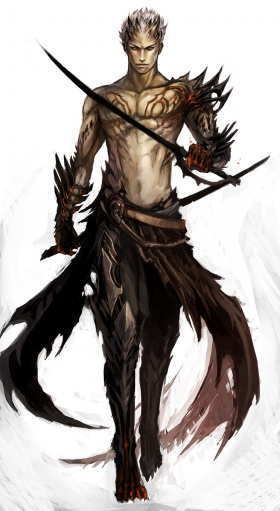 Main trait: Strong Willed
Common Element: Fire, Earth, Darkness, Spirit
Life span: 300-400
Average Height: 6'0"-7'0"
Average Weight: 115-150 lbs
---
The first demonkin were those whose parents were under demonic sway when they were conceived. A demonkin child born of humans is indistinguishable from a normal child of their race. After a few months, signs of dark power will manifest in the child. One such sign is the desire to consume the flesh of neighbors, or an obsession with burning things. Others are born with crippled limbs or other flaws. In some societies, such a child would be quickly killed, but a parent's love knows no bounds. They will search far and wide for ways to suppress the overt signs in their child and allow him or her to live among the greater community.
A newborn demonkin generally appears as a human but with certain physical traits similar to that of their demonic parents. Demonkin born of other demonkin, and not possessed humans, generally show more of their diabolic heritage through the color of their eyes and ever-pulsing veins, as well as mean tempers. Those who manage to achieve adulthood alive find the world an unforgiving place. The demonic touch in their souls strengthen them, however, and they make hardy survivors.
Many become loners, wandering the world without any thought of hearth or home. This way of life appeals to those who embrace their nature, which they become aware of gradually. Those who cling to normalcy generally get into more trouble than the others, as they constantly clash with non-demonkin. A demonkin will inexplicably trigger unease in others, and will similarly feel suspicious for no apparent reason. This effect is known as the daimon effect. Along with this, they possess a a longer lifespan and a natural increased proficiency in dark magic which usually manifests itself during maturity. A byproduct of their demonic heritage.