SPIRIT REALM
Home of the good and neutral aligned deities and other lesser spiritual beings,such as Celestials, Sprites and the Elementals. Many philosophers believe the spirit realm is a physical place located in the center of their sun. But in actuality, it is an entirely separate dimension. A place of beauty and light, order and justice. Ruled by the greater god Patron. The evil deities of ODR are never welcome here.
---
MORTAL REALM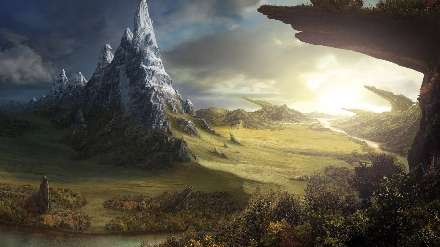 This is where our story takes place. Where the many races of Overdark live their day to day lives seeking adventure and rising to become legends. It is the center of all conflict among the gods and is the primary battle ground used by all spiritual forces.
---
THE ABYSS
The equivalent of hell in Overdark. The Abyss is home to the Arch-Devils and their demonic armies. Once believed to be located in the center of the world.
---
REALM OF DEATH
Home of Durock or Death, the mighty Grim Reaper. A parallel dimension where the cursed and evil spirits of the dead reside for the rest of eternity. Although it may sound intimidating. Those with a wicked heart who were not claimed by The Light, were punished for eternity in the lower, more hell-like levels of the realm. But those of good heart who were claimed by The Light were granted eternity in the higher, more heavenly levels of the realm.
---